Assembly #341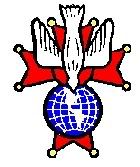 Greater Waterville Area
Fourth Degree Assembly #341
   Spiritually, the sacred symbols on the 4th Degree emblem typify the Union of the Three Divine Persons in one God…the most blessed Trinity.
The Globe…God the Father, Creator of the Universe
The Cross…God the Son, Redeemer of Mankind
The Dove…God the Holy Spirit, Sanctifier of Humanity
   In those days when knighthood was in flower, the Knights of old carried the sword to defend, God, Church, Country, and fellow man according to the code of chivalry.  In our times, Sir Knights wear regalia and carry the sword to honor Christ and his Apostles, especially on religious and civic occassions.  Precision drill is a salute to our God and to our country, and visually exhibits a love for both.  We are most frequently seen as Color Guards (Flag Bearers) and Honor Guards at Masses, Wakes, Funerals, National Holidays, Catholic Holy Days, and sometimes as escorts for dignitaries.
   The Fourth Degree exemplifies the principle of Patriotism, and is the Ceremonial Degree of the Order.
   Our meetings are held on the third Monday of each month beginning at 7:00 p.m. at St. Francis Parish Hall, 50 Elm Street, Waterville, Maine.  We welcome all 3rd Degree Knights to join our ranks!